I'm starting a series where I look at past months in previous years and see what I was reading. What I liked, what I didn't like. What I have kept up with and what I have set aside. What was a favourite, and what fell from grace. It is also a way to give a review to some past series that I'm probably unlikely to ever review in full.
Geoffrey Huntington's Ravenscliff series
This was a childhood favourite of mine. I loved it and read it at least a dozen times, but the third book was unpublished because the publishing house folded under the author who couldn't sell it anywhere else. So when I found out Huntington published book three by himself, I jumped at the chance to read it.
Reading it as an adult didn't make me rethink how I loved a series I read as a child, like so many others have. It was just as scary and just as awesome as it was as a child. The biggest thing I have to complain about is actually that the third book ended on a cliffhanger. All that time waiting, and I get a damned cliffhanger. And I'm continually bummed out when I look for news about a fourth book and find that the author has disappeared again (Probably because the third book didn't sell as well as he hoped – but what did he expect? There was TEN YEAR gap between books two and three for a series that is marketed towards teenagers.)
Kevin Hearne's Iron Druid Chronicles
Iron Druid Chronicles is a series I read mostly because of how much it is talked about online, and how much it is recommended to others who like the same things I liked. The problem is that I found that the story had its moments, but didn't keep me interested for long, and that I absolutely hated the main character, Atticus.
Once I caught up to all the books out at the time of reading, I set the series aside for years until it finally finished in 2018. I wrote reviews for the series and the books here. The highlights from the reread and finishing the series is that I hated Atticus even more after 4 years of growing up on my end, and that the story was even worse the second time around.
Shannon Mayer's Rylee Adamson series
There were only five books out in this series in April of 2014, and there are now ten books out, with a series of epilogues and two separate spinoff series. I kept up with the series through the first spinoff but decided that after that I wasn't going to read any longer.
I actually love the Rylee Adamson series quite a bit. I wouldn't say it is one of my favourites, but it is highly regarded in my memories. I'm not certain how it would hold up to a reread though. I read it as it was ongoing, and haven't read the early books for a long time now. I'm afraid it won't regard the series as highly now like I did back then, so I haven't reread it in a while.
The later books in the series do make me bawl my eyes out though. The last book in the series has the distinction of being one of the few books to make me physically sick from grief. And even before that point I was crying every time a new book came out. Damn shame how much I got turned off by Mayer playing the Amazon game, I used to like her so much.
Darynda Jones' Charley Davidson series
Similarly to the Rylee Adamson series, there were only five books out when I first read this series in April of 2014. I absolutely loved this series when I first found it. It was funny as all hell, and I loved Charley and Reyes. The stories just hit that spot for me. After book five I had a rocky relationship with the series. I started disliking what the author was doing. I even on two occasions just stopped reading it because I couldn't deal with what the author was doing anymore. Finally, the last book came out in the series in January of 2019, and I reread it with the intent to finish. I barely made it through the whole thing. I just this month I finished all the reviews for the series. You can see more here.
C.E. Murphy's Walker Papers series
The Walker Papers was a good series that I have mostly since forgotten. I enjoyed it while I was reading it. It took me to places I previously hadn't been to before. Murphy combined Celtic and Native American lore perfectly. I liked the main character a lot. I even liked the love interest, even though there wasn't any romance for the vast majority of the series.
So why have I largely forgotten the series? There just wasn't much that I could take from it. It is a long series, nine books, and each book was largely standalone, until towards the end. They tended to be basic urban fantasy detective stories, until towards the end. The characters had little growth throughout the series, until towards the end. The Walker Papers was good, but it is definitely middle of the pack urban fantasy to me. It came out during the urban fantasy boom, but it just didn't make much of an impact.
1 Litre of Tears by Aya Kito
The one non-fantasy book on the list. 1 Litre of Tears is a diary written by Kito Aya, a japanese teenager, as she finds out she has a progressive disease that will one day kill her, but not before she loses control of her entire body first. I watched the JDrama of this when I was a teenager and it absolutely destroyed me. I cried throughout the whole thing. I finally got my hands on a copy of a diary and just had to read it. Overall, I enjoyed reading it but I thought it was more powerful as a JDrama.
Anne Bishop's The Others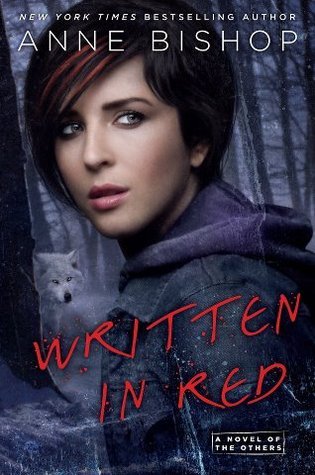 I found this series on April 30th, 2014 at about 1230 am, about three minutes after I finished wiping the tears off my face from 1 Litre of Tears. Within 5 minutes, I had the ebooks for both of the two books in the series that were out at the time.
I finished both books before the end of the day.
No, I did not get any sleep at all.
The Others is one of those series that I will always remember because of how much I have loved it. I have read some of those books so many times I practically have them memorized. Keep in mind that it has only been five years since that day, and I have read them a lot. Meg and Simon feature heavily in my daydreams. Ever since Bishop wrapped up the Meg and Simon arc, I haven't been enjoying the series as much. However, the most recent book made me excited for the series again.