I'm started a series where I look at past months in previous years and see what I was reading. What I liked, what I didn't like. What I have kept up with and what I have set aside. What was a favourite, and what fell from grace. It is also a way to give a review to some past series that I'm probably unlikely to ever review in full.
Ah, a normal month. While I still had one class this month, most of the month was my own! This was a very, very good month for me. I enjoyed all of the series on this list at the time of reading. Some of them I even consider to be my favourite still.
Ally Shields' Guardian Witch series
This wasn't a bad urban fantasy series. But that is because I started it before it ended. It takes the idea of a witch, who is fated to love and marry a vampire, and makes it about some really weird stuff. Plots within plots. That is until the very last book, which did something I hate so much I cannot even begin to describe how much I hate it. It is the type of ending I hate the most in a series, wrapped up in a plot type that I like the least.
Until that ending, it wasn't truly remarkable, but it wasn't bad. If you're looking for something to read, and the description of the series suits you, I would recommend it. It just hit all the buttons that I can't stand.
Kelley Armstrong's Women of the Otherworld (part 1) series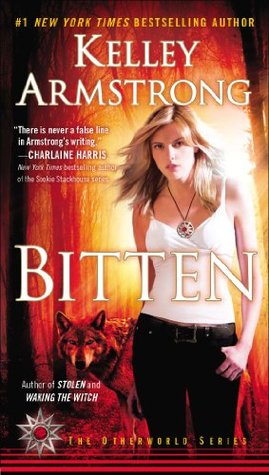 Women of the Otherworld is such a good series. One day I may reread it and write reviews, but not anytime soon. WOTO is one of those series that got in early in the genre, but for some reason I never really see it talked about as if it has been around forever. The first book was clearly written as a standalone, and the rest of the series came after the first one proved to be such a success. There are also approximately a hundred million short stories and novellas that are tied to the series, most of which are contained in 5 collection anthologies.
Women of the Otherworld features several women, all from various races. Elena, the werewolf, Paige is a witch, and Savannah is a Witch/Sorcerer combination that should never have been possible. Eve is dead – a ghost, and Jaime is a medium. Hope is half demon. And there are more than that.
What happens? Well, the characters live their lives, in a way that is more real than in other urban fantasy series to me. The characters have real interactions with real people, and real reactions to real problems. They run into trouble, and they fix that trouble. It just feels like a very real story for me.
Unfortunately, the first time I read this series I could only get through the first 8 books at once. The problem was the amount of short stories and novellas. They're pretty much all worth reading, and I recommend them. It is just that at a certain point it becomes a bit too much.  I read it all in chronological order. I'm not certain I would recommend that right now, honestly. There are just so, so many! But the series is very good.
Jacqueline Carey's Agent of Hel series
Agent of Hel is a series with some very interesting ideas, but was ultimately rather forgettable. I haven't read it again since the last book came out, and I'm unlikely to read it again. While I loved her Kushiel series, which is erotic fantasy and very much outside what I typically read, Agent of Hel just doesn't do it for me, even though I've read more urban fantasy than any other genre.
The good: the mythos. Carey combines a whole bunch of disparate mythologies together, and she does it using some that I don't often see, to the detriment of the genre. Yes, there are the commonly seen werewolves and vampires. But there are also ghouls, and frost giants, and the Norse goddess, Hel, too.
The bad: I really, really hate this romance. I don't like anything at all about it. The main character and a boy she works with like each other. Only, he is a werewolf and he can't marry anyone outside of the pack. So it gets drawn into this needlessly long will-they-won't they, until he finally decides to tell his pack to screw themselves. Surprise! Not.
Sandy Williams' Shadow Reader series
The Shadow Reader series has some really damn good fae. While it is urban fantasy, it is mostly portal fantasy. They spend very little time on Earth from what I remember, it just starts there. Then they go to Faery, or whatever it is that this series call it, and then things get really real, really quickly.
The thing about the Shadow Reader is, on the first and only time I read the first book in the series, I had the weirdest sense of deja vu ever. I knew, I absolutely knew, that I had never read it before. Yet I felt like I knew every event right before it happened, like I had read it before. I felt like I knew every name before that name was introduced. I felt like I just knew everything about it. That feeling went away on the second book, but I've been confused by this experience ever since. Have you ever experienced anything like this? Comment below!
About the series: it is pretty good. Like I said, great fae, good worldbuilding, great characters. It isn't bad at all. Can't exactly say as to why I never read it a second time, other than that I haven't wanted to yet, not because I never want to.
Chloe Neill's Chicagoland Vampires series
Chicagoland Vampires is one of those series that I avoided for years before I finally read it, and kicked myself the entire time I read it for avoiding it in the first place, because it was so damn good. The reason I avoided it? The covers. The covers made it look like there was a new lead person every book, and I hate that. When I finally broke and read it and found out that that wasn't the case? Boy was I mad and I felt so dumb for not looking into it further!
Chicagoland Vampires is awesome. Not only was every book fantastic in the beginning, but it went the extra mile and tried to completely devastate me in the process. It is a high stakes, high throttle sort of series. And the main character, and her house of vampires including her sire, are always in the thick of it. It is definitely one of those type of urban fantasy series.
Unfortunately, by the end of the series I feel like Chloe Neill lost the charm of the early series. I just feel like it went on too long, like it was artificially dragged out. Which is so, so common in the older, longer urban fantasy series. And so, so unfortunate, too. A contender in the "Unfortunate it went on so long" list, for certain. It could have been on an all time favourite list, instead.
Nalini Singh's Guild Hunter series
I love the Guild Hunter series. I also love Singh's Psy/Changeling series. Depending on the day, it is a toss up to which I like more. Guild Hunter switches between urban fantasy and paranormal romance, depending on the book. If it is a book with Elena as the lead, it is solid, enviously amazingly written urban fantasy. If it is any of the other books, then it is solidly written, heart-aching, loving paranormal romance. You just can't go wrong with Guild Hunter if you like either of the two genres.
Nalini knows how make a world, make it dark, and make it sing. There's just something so utterly, wondrously, dark about this series that makes it feel like it isn't dark, that it is just a way of life, and the characters are there to save us from this dark world. And the characters! Wow do I love the characters. This series is definitely one of my favourites.
The most recently released book prior to this post ended on the mother of all cliffhangers. I am currently counting down the days until I have the next one in my hands because holy shit that cliffhanger is on my list of "most evil cliffhangers ever"!
Debra Dunbar's Imp series
I talked about this for a previous month already, but mostly I read this in July because I needed something to read quickly, and I really enjoyed the series the first time I read it. See what I said in May, or on the Series Pages for Imp, Imp World, Half Breed, or Northern Wolves.